Hobbies Plus...
40 Tyers Street (Princes Hwy),
Stratford, Victoria, 3862.
Australia.
(see map below)
Phone / fax (03) 5145 6611
WEDNESDAY to SATURDAY only



PLEASE NOTE: As Hobbies Plus is, for the most part, a one-person business, I frequently need to leave the shop for 5-10 minutes at a time to post mail orders, get lunch, go to the bank (30 minutes) and so on. If the phone is not answered, please try again later. The answering machine will generally be on if the shop is closed for longer periods.
Yes, we welcome international orders.
Customers outside Australia please note that prices shown in this site are AU$ and include 10% GST.
The GST can be deducted on orders from outside Australia.
Postage / shipping is charged at cost.


Open 24 hours
(just not all in a row)

Wednesday 10am - 5pm.
Thursday 10am - 5pm.
Friday 10am - 5pm.
Saturday 10am - 3pm.
(well okay, that's actually 26 hours)

Usually closed

Sunday, Monday and Tuesday
unless by appointment
or I happen to decide otherwise :)

To place an order...

If you are unable to visit our shop,
please phone, or write to us at
40 Tyers St, Stratford 3862.
Payments may be by Direct Deposit, Money Order or cheque (made out to Hobbies Plus).
Mastercard or Visa.
PayPal is also available.
Please note that additional PayPal fees of 3% shall apply for smaller purchases.

Postage is at cost.

Postage may not be charged on higher value orders ($300+), depending on items ordered.
Some items, such as DVDs, Train Hobby books, and certain other brands are not included as they already have very low margins in order to keep prices competitive.
Please contact us regarding opening times for public holidays. Generally our hours do not alter for long weekends. ie. we are only open on the Saturday. Always closed Good Friday and Christmas day. Generally open normal hours between Christmas and New Year but closed New Year's Day. We would also recommend ensuring we will be open if you are making a long trip especially to the shop as, although we try to avoid it, there are occasions when we can not be open during our normal hours and have little or no advance warning.

Location.
Hobbies Plus is located on the Princes Highway (A1) in Stratford, Victoria.
We are 229kms east of Melbourne by road or 222km by rail.
V/Line trains stop a short walk from the shop.
There are presently 3 train services each way per day (Mon - Sat). For Bairnsdale line timetable information, go to www.vline.com.au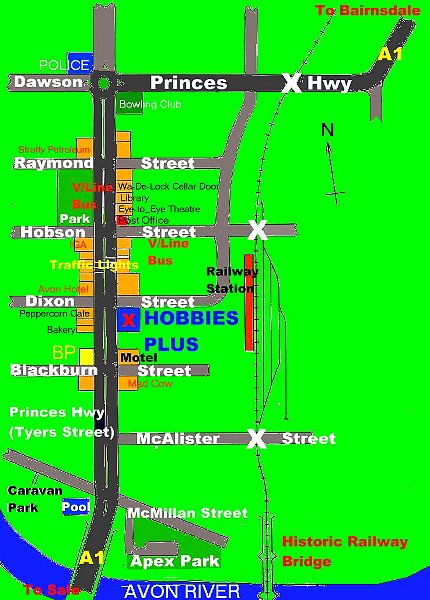 The small print section.

Don't worry, it's nothing too boring. But some people seem to think a business site needs a privacy policy these days. Not sure why, hardly anyone reads them and probably fewer actually believe them. But here's my version of one anyway. Basically any information you provide to me at Hobbies Plus is pretty much treated how you hope it would be. I hate spam and junk mail as much as you do, and therefore it doesn't end up being sold or given away to anyone else, whether I think they would use it that way or not. Credit card details are not kept on file (unless you specifically request it) except as required by the bank (6 months).