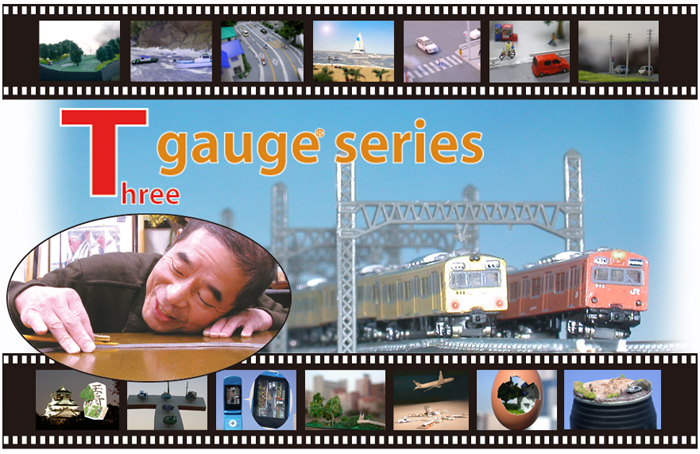 Don't think you have room for a model railway?
Think again.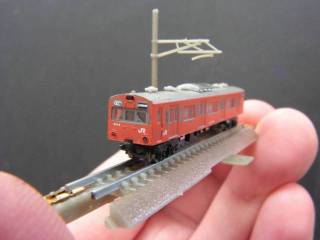 KK Eishindo's T gauge - 1:450 scale, 3mm gauge track.
2.22m = 1 scale km.



Page last updated Friday August 26, 2011

This video shows a 40 x 60cm T gauge layout at our shop.
The video was made before completion, but shows what is possible in this scale.
Higher quality version available - click on picture after starting video to go to YouTube page, then 'Watch in High Quality" at lower right of picture.



Prices include 10% GST, not applicable to sales outside Australia.
Prices subject to change due to currency fluctuations.
More items to be added to this list as they arrive.
Electric turnouts under development.
German ICE, Japanese Shinkansen, Trams, Steam Locos and more under development.
Road vehicles, more structures etc.

Below are some samples supplied by KK Eishindo of other items.


Road vehicle set. Cars and trucks. Unpainted pre-production samples shown. These will be well detailed and include interiors. Figures may be put inside. Some models feature open doors.
The car shown at right is a mere 10mm long. These items are now in stock.
Magnifying lens. To assist in the challenges of modelling 1:450 scale.
Available now
Desk Top Case. Supplied flat, assembles into a display case for T gauge (or any other scale) models and dioramas.
Front panel is hinged and removable. Base slides out.
Available
None in stock

1/32 scale Garden Railway. Includes a 1/32 scale garden scene with figures and a miniature railway diesel locomotive and riding car on 3mm gauge track. Photo credit - KK Eishindo
Available to order
Mountain Railway. Model of an incline/ funicular / rack railway type train.
Pre-production model illustrated.
Production cancelled.




Catenary masts Flexible and roadbed tracks
Warning. T gauge trains operate on 4.5 volts only. Running on higher voltages will damage the motors and probably the bodies, due to the heat generated.
Note that many pulse power / 'half-wave' controllers intended for larger scales will still put around 12 volts on the rails, regardless of the speed setting.
We strongly recommend using the specially made T gauge controllers to operate T gauge trains.
Models damaged by operating on the higher voltages of other controllers will NOT be covered by warranty.




Photos above - left to right, top to bottom are..
Relative track size of T, N and HO; T gauge trains in N scale open wagon; T gauge carriage on HO locomotive; T, N and HO trains with $1 coin.
T gauge trains on double track with $1 coin; front views; catenary mast; showing the working head / tail lights.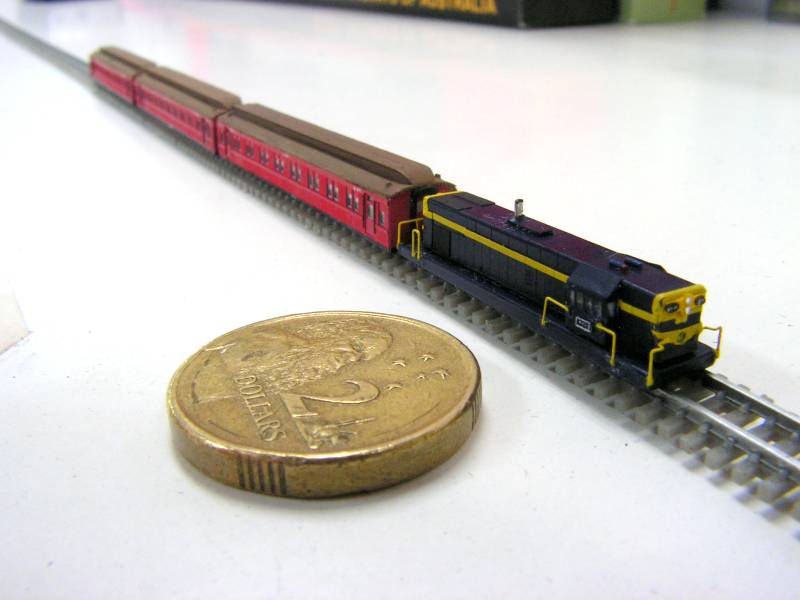 The future of T gauge in Australia???
Scratchbuilt 1:450 scale Victorian Railways T class locomotive and E cars by Paul Blake.
For more photos of T gauge and construction of our demonstration layout, please click here.

All photos and video on this page © 2009 Hobbies Plus, except T-hree Gauge® Series image at top of page © KK Eishindo.