A brief history of
Model Railways.
The history of model railways is almost as old as railways themselves. Early models of the late 1800s and early 1900s were usually made from metal and were often powered by steam or clockwork mechanisms. Many homes did not have electricity at that time. Model or toy trains were relatively expensive and only the wealthy, or at best, the moderately well off could afford them. Model railways for the masses became more common from the 1920's with more affordable mass produced models being made available.

In Australia the most commonly available brand of toy or model trains appear to have been Hornby. And until recent times, this was still true. Hornby trains are still manufactured, but bear little resemblance to the tin toys of yesteryear.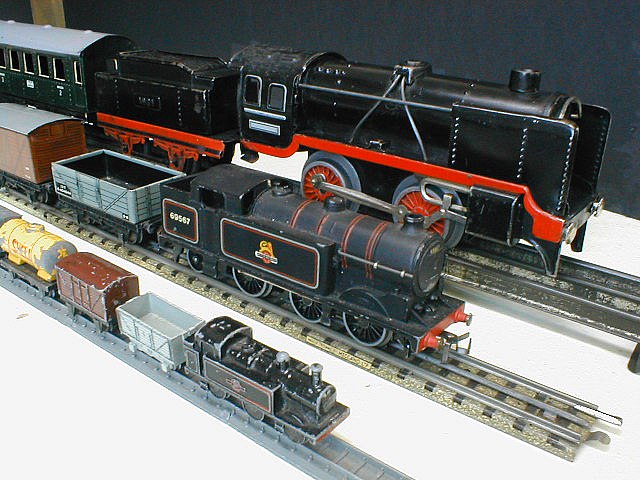 Examples of early model trains in O gauge (rear), OO gauge (middle) and OOO gauge (front).
The models improved over time and became more accurate. They also got smaller as houses got smaller. Or perhaps more accurately, as the models became more affordable, those living in smaller houses were able to take up the hobby.
Early electric models had 3 rails on the tracks. This was due to the problems of insulating the wheels in an age where plastics were still some years away. Modern 2-rail models have plastic insulating the wheels from each other.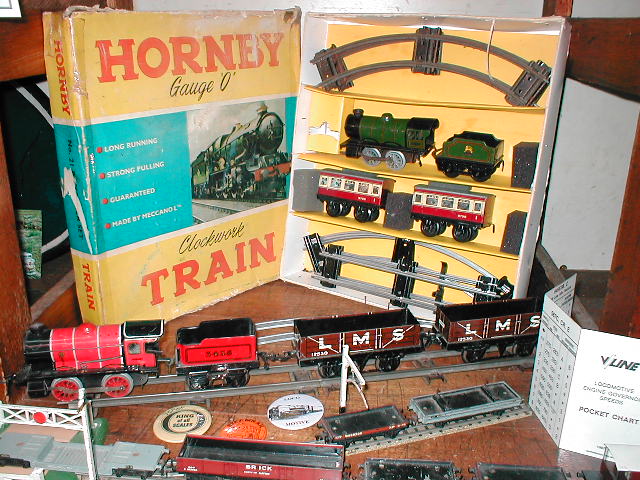 Above: A selection of Hornby tinplate trains in O gauge and the smaller OO gauge.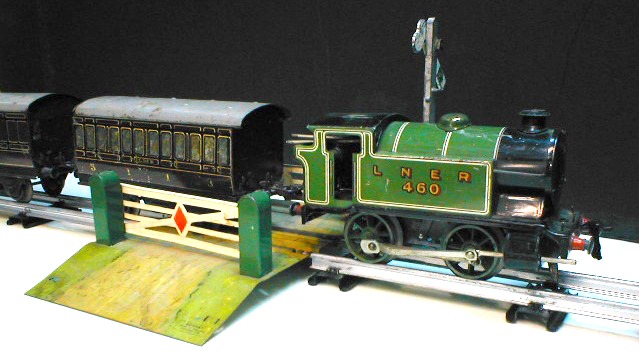 O gauge clockwork (wind-up) train by Hornby. Many older modellers were introduced into the hobby by trains such as this. Hornby made such trains up to the early 1960's. Pre WW2, there was also a range of electric O gauge models, which are not so commonly found today. Hornby dropped the electric O models after the war to concentrate on the Hornby-Dublo range.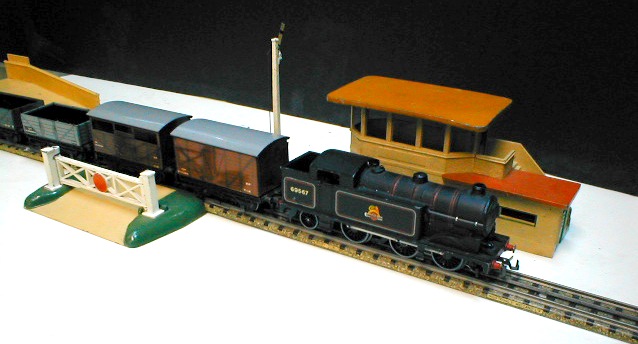 Hornby later introduced their Dublo (00) range of electric models. Half the size of the O gauge and running on 3-rail tin track with nickel-silver rail, these models were a big improvement over the detail found in their O gauge trains. And of course it was much easier to find space to run them in the average home.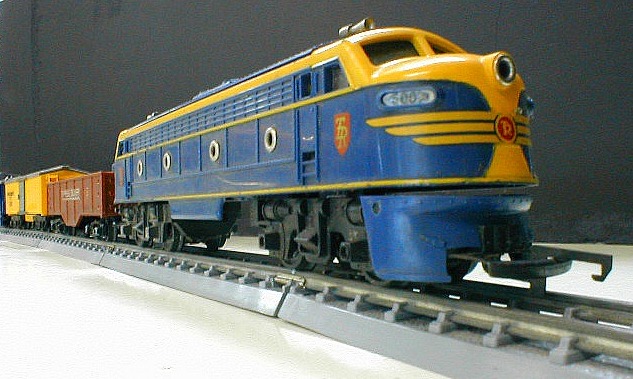 The ubiquitous Tri-ang B class locomotive. Since opening Hobbies Plus in 1988, I feel I've seen more of these models than any other. About once a week I get somebody in the shop talking about the old dust-covered Tri-ang train set they've rediscovered hiding on top of a wardrobe, under a bed or in a shed for the last 30 years and wanting to know if it is worth doing anything with it. And almost always, they have at least one of these double-ended blue and yellow diesels included in the box of bits and pieces.
The Tri-ang range begun its life in the 1950's. It was among the first range of plastic bodied model trains and was cheaper than the Hornby-Dublo range with which it competed. Eventually the Hornby-Dublo range was absorbed into the Tri-ang group and was known as Tri-ang - Hornby. Until recently, some of the modern range of Hornby trains could still be recognised as coming from the original Tri-ang range. However by 2008, most of these have been replaced with more accurate and detailed models.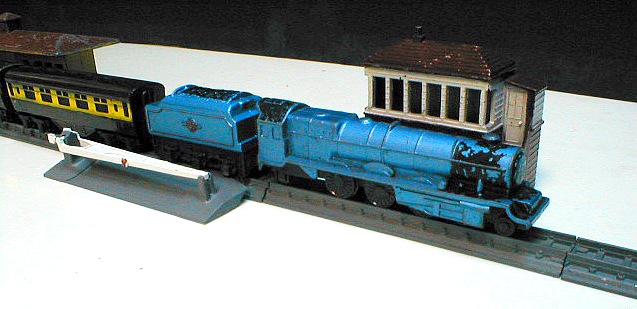 The photo above shows one of the push-along die-cast metal 000 gauge trains by Lone Star. Lone Star later made electric powered models.
The development on N scale soon took over and 000 gauge is now virtually extinct.
Note: All models shown here are part of a display in the shop. Hobbies Plus does not specialise in the sale of vintage toys and trains and does not normally have such items available for sale.